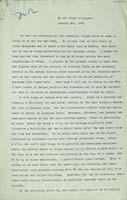 Identity area
Reference code
PETH/6/131
Title
Circular letter by F. W. Pethick-Lawrence
Context area
Immediate source of acquisition or transfer
Content and structure area
Scope and content
In the train to Jaipur.—Records his general impressions of India, referring to the climate, mosquitoes, eating customs, servants, travel, bathrooms, and typical expenses.
(Mechanical copy of a typed original.)
—————
Transcript
In the Train to Jaipur.
January 3rd, 1927.
We have now finished all the essential things which we came to India to do and see and hear. It is true that we have still to visit Rajputana and to spend a few final days in Bombay. But these are by way of being postscripts to our original plans. I think the time has now come therefore to sum up in broad outline the main impressions of India. I propose in the present letter to deal with the lighter side of the picture, to describe India as she presents herself to the casual visitor whose interest is in the external appearance of the country and the people and in the social amenities of European life found here. Next week I will try to convey to you what I have learnt of Indian politics and economics and to give my estimate for what it is worth of interracial relationships to-day in India.
I will begin at random with the climate. India is a terribly hot country, a viciously hot and moist country, in the late Spring & Summer. But this is hearsay only. For the cold-weather visitor does not experience it except in Southern India. November, December, and January are exquisite months in all the more northern parts. There is practically no rain. Every day about 6 o'cl. in the morning a pellucid light illumines a heliotrope sky and a little while after the sun rises clear and calm and beautiful. It is still quite cool, and in the higher latitudes or altitudes really cold with an occasional frost. About 8 o'cl. the sun's rays begin to be powerful and European experience warns the visitor never to stand exposed to it without a pith helmet in the case of a man and both hat and parasol in the case of a woman. But it is by no means unpleasant. A gentle breeze plays around. Even at midday or an hour later when the sun's rays are fiercest, the shade temperature lies probably between 60 & 70 and one chooses at will between cotton and wo[o]llen clothing. Sometimes the sky is cloudless, sometimes white fleecy clouds bathed in brilliant sunlight hover on the horizon.
As the afternoon draws on, the helmet (or topee as it is called) becomes unnecessary. It is then that one can play tennis or other sports much as one would play at midday on a mild September day in England. Towards sunset it grows colder and rapidly darker. By 5.30 or 6 one cannot see to play tennis, by 6.30 one needs a lantern to walk in the country and it is quite cold. It is then that one needs thick underclothes and medium overwear much as one would do in nice mid-October weather in England. At night in the unwarmed trains it may be very cold indeed.
In Bombay and the Madras Presidency it is much warmer. Except in the hills it is never really cold and it may be stickily hot. Going out to dinner in the evening one wears the thinnest clothes one can and even then one is glad to have the electric fans both to keep one cool and dry and to ward off the mosquitoes who cannot exist in a draught. Of course in the summer conditions are reversed. It is then merely very hot in Madras while in Northern India it is suffocating.
I have been led to speak of mosquitoes and I may as well clear up this unpleasant subject. One may travel about through a number of places and almost believe mosquitoes to be a myth. Then all at once one runs into them and withdraws all one's scepticism. So long as they have stagnant water to breed in they do not seem to mind heat or cold and are particularly fond of one's ankles at meal times, or one's face and hands in bed. Unless one has a through draught in one's bedroom at night there are very few places where one can do without mosquito bed-curtains. And if by accident one does so, a swollen face may be the penalty in the morning and it may be a week before traces are removed. Of course mosquito bites are not only unpleasant but dangerous as they cause malaria. At Gauhati where mosquitoes and malaria abound all sorts of things are done to stop it. Incidentally all the water, even the soda water to drink and the bath water to wash in is chlorinated and distinctly unpleasant in consequence. With proper precautions one has not much to fear, but mosquito-born[e] malaria is a fearful scourge in India. It is reckoned that in Bengal alone over 150,000 die from it every year. In spite of all that is done very much more might be done but it costs money and effort.
There are very few places in India where one can "go for a jolly walk". There are a few public parks in the larger cities, there is always the "compound" if one is staying with a friend but this is not very extensive. Beyond these there is nothing but an exceedingly dusty high road and one very soon tires of that.
Practically every European in India takes Chota hazri (or early tea with toast and fruit) on being called in the morning. Breakfast follows at 9, lunch at 1, tea between 4 & 5, and dinner at 8 or 8.30 or even later. I am not enamoured of this double breakfast system nor of this very late hour for dinner, especially in view of the fact that people go to bed soon after 10 so as to be up by 7. The reason for so late a dinner is partly customary habit, and partly the fact that people like to have some leisure time together at the club between work and going home to their houses for dinner and bed. But it is carried to absurd lengths and in hotels and even on the trains where people often go to bed soon after 9 and there is no excuse for it, the normal dinner hour is still about 8.
All the express trains have restaurant cars, but the carriages are not corridor (except in rarecases†) and one gets out at a station, goes to the restaurant car and returns at the next station. The reason for this is that corridor carriages would provide an opportunity for thieving. Even as it is when one goes to meals a servant comes and sits in the vacated carriage.
It is quite a mistake to think as some people do that all lower class Indians are dishonest. My experience so far has been entirely to the contrary. I believe it would be true to say that Indian servants compare not unfavourably with servants all over the world. In many respects they are extraordinarily faithful. But in India there are large masses of terribly poor people, and they abound everywhere. It would obviously be unwise to put easy opportunities for petty larceny in their way.
Railway travelling in India for 1st and 2nd class passengers is very pleasant in winter except for the dust. If one travels at night one brings ones own bedding. For this and other reasons packages multiply. Accommodation is very spacious but if there are as many as four people in a compartment to sleep every available nook and cranny in it is stuffed with belongings. But generally the quota is only two and then there is ample room. Once in a crowded train I only secured accommodation by inducing an already four-filled compartment to allow me to make a fifth and lay my bed on the floor. Fortunately before bedtime I got a berth in another compartment. When trains are crowded husband and wife have to be separated and go into men's and women's compartments unless they can secure one of the rather rare coupés or half-compartments containing 2 berths only. Third class passengers are often terribly overcrowded but travel at the cheap rate of four miles for one penny.
I had written so far before retiring to rest in the train in a compartment with one other man, my wife being in the ladies' compartment. At 3 a.m. an additional passenger got into the carriage and went to bed. At 4.15 we were again roused to see if we had room for yet another, but he went next door. Next night E.P.L. and I were again separated and arrived at our destination at 4.27 a.m.—somewhat early to turn out, but it had to be done. Thus travelling in India is sometimes far from comfortable!
Bath rooms in India are very different from those at home. To each bedroom is attached a lavatory, with an outside entrance. The stone floor has a little stone parapet dividing it into two, and on the outer side is a hole in the wall. When one has a bath the "waterman" brings in hot water and empties it into the little tin bath. When one has finished the "sweeper" comes in and overturns it and the water runs out at the hole in the wall. This is universal in private houses and is also the rule at hotels. Some hotels have running water, but even then it is rare to have the water-escape plumbed, it usually runs out through a hole in the wall.
I have spoken of waterman and sweeper, these are necessarily separate individuals for they belong to different castes, there is also the "room boy". Then there are the major domo, the table boys, the plate washer, the cook, assistant cook, and at official residences several peons or messengers who bring one letters, introduce visitors, go errands etc. Everyone of these expect "back-shish" when one leaves, and from an M.P. on whose behalf many visitors have come the present must not be niggardly. At one house seven gardeners also came forward for a gratuity sent to me by the major domo. I yielded on that occasion but I told my own "boy" that I should draw the line at gardeners in future and have always done so. The net result is that tips for the two of us staying on a short visit with friends may easily run up to as much as R10 (15/-) for each day of one's visit.
All the porterage at railway stations is done by hand or rather on the head and the same is true at hotels. I felt that my steamer trunk was too heavy to carry on one man's head until I once saw a coolie who had it on his head insist upon putting on top of it a suit case and on top of that a bundle of rugs. Naturally one does not grudge these willing workers the 4 annas (about 4½d) which they claim for their labour. Still when all is paid for it is not a cheap method of getting about. Here is how it works when we have our full luggage with us. We arrive at a station and are sent off to an hotel in a little motor car or carriag[e] costing perhaps one or two rupees (1 rupee equals 1/6) and give a tip of say 4 annas. We bring with us hats, stick and parasol and smallest bags. Ameer our boy brings the luggage. Coolies at the station cost 1½ to 2 rupees, cart and tip 2½ or 3½ rupees according to distance, coolies at hotel another 1½ or 2. Total about 10/- to 15/- and the same in going back from the hotel to the station. In England one porter with a truck, 2 taxis and a porter at the hotel would move the lot and a generous cost would be 8/-. Hotels in the country districts charge about R25 or R30 (37/6 or 45/-) a day for the two of us. As this includes sitting room and bed room and bath room and all meals and as the hotels have a short season this is not perhaps excessive. In Calcutta we had only one room (and bath room), we took many of our meals out but still had to pay R45 (67/6) a day for the two. Railways charge 2 annas (2¼d) a mile first class. This is not excessive but amounts to a very large sum owing to the great distances. We shall have travelled altogether 9000 miles, and spent 24 nights, out of a total of 71 in India, in the train! Members of Parliament who are members of the Empire Parliamentary Association are supposed by a reciprocal arrangement to get ½ fares for themselves and their wives. But this has not yet been put through and we had to pay full fare except on two railways which gave us special concessions.
The postal system in India is excellent and most expeditious and I doubt if it has its equal in the world for so large an area. It is certainly far better than in the U.S.A. There is also a capital system of sending money and for a very cheap rate the post office brings a receipt back to the sender. Main roads are good though inevitably dusty. There have also been very fair roads so far as I have gone in the less frequented districts. Sometimes one has to go rather out of the way to keep on a road and to overcome some obstacles. Coming back from Tagore's house to the main line by motor car I had to travel about 55 miles (the railway distance is 32) and had to cross an unbridged river by ford. Getting the car down and up the dry sandy banks taxed all the energies of myself and three villagers who came to our help.
I have left myself very little room to speak of the people here both English and Indian. In this letter I will content myself with saying that I have found them all extraordinarily generous and hospitable. They have entertained us in all sorts of ways, lent us their cars to ride in and given us of their time and trouble. It is this which has made our visit such a pleasant one.
F. W. PETHICK-LAWRENCE.
—————
† Sic.
Appraisal, destruction and scheduling
Conditions of access and use area
Conditions governing access
Conditions governing reproduction
Language and script notes
Physical characteristics and technical requirements
Allied materials area
Existence and location of originals
Existence and location of copies
Related units of description
Notes area
Alternative identifier(s)
Description control area
Rules and/or conventions used
Dates of creation revision deletion
Digital object (External URI) rights area
Digital object (Reference) rights area
Digital object (Thumbnail) rights area