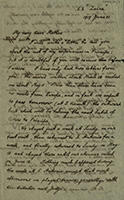 Identity area
Title
Letter from A. S. Eddington to Sarah Ann Eddington
Date(s)
21 June and 2 July 1919 (Creation)
Context area
Archival history
Immediate source of acquisition or transfer
Content and structure area
Scope and content
Transcript
S.S. "Zaire"
1919 June 21
My very dear Mother
I will write a little to tell you about the rest of my experiences in Principe; but it is doubtful if you will receive this before I arrive. I have only had two letters from you—the second written about March 28 reached me about May 11. Since then there have been no mails from Europe, and in fact we expect to pass tomorrow (at S. Vincent) the outward boat which will be taking the next batch of letters to Principe.
We stayed just a week at Sundy on our first visit, then returned to S. Antonio for a week, and finally returned to Sundy on May 13 and stayed there until our steamer sailed on June 12. Nothing much happened during the week at S. Antonio except that most afternoons we played tennis, generally with the Curador and Judge.
We were ready to take the first photographs about May 16, and as the nights were generally clear we had no difficulty in getting the check photographs. These had to be taken between 12∙30 and 1 a.m; we took them on three different nights. The developing also had to be done at night and, owing to the special difficulties due to the high temperature of the water (78°), was a slow business. So we were often up pretty late during this period. In the day time I had a good deal of work measuring these check photographs.
The last heavy rain fell about May 9 and shortly afterwards the Gravana or cool season began. There was practically no rain, but a good deal of cloud in the day-time, and the conditions seemed rather less favourable for the eclipse than during the rainy season. However there were a number of beautifully clear days, and usually at least part of the day was clear. The two days before the eclipse were about the most unfavourable we had.
On the morning of the eclipse Mr Carneiro, the Curador, Judge, Mr Wright and three Doctors came over. Just as they arrived a tremendous rain-storm came on, the heaviest we have seen. It was most unusual at that time of the year; but it was favourable for the eclipse as it helped to clear the sky. The rain stopped about no[o]n (the eclipse was at 2∙15). There were a few gleams of sunshine after the rain, but it soon clouded over again. About 1∙30 when the partial phase was well advanced, we began to get glimpses of the sun, at 1∙55 we could see the crescent (through cloud) almost continuously, and there were large patches of clear sky appearing. We had to carry out our programme of photographs in faith. I did not see the eclipse, being too busy changing plates, except for one glance to make sure it had begun, and another half-way through to see how much cloud there was. We took 16 photographs (of which 4 are not yet developed). They are all good pictures of the sun, showing a very remarkable prominence; but the cloud has interfered very much with the star-images. The first 10 photographs show practically no stars. The last 6 show a few images which I hope will give us what we need; but it is very disappointing. Everything shows that our arrangements were quite satisfactory, and with a little clearer weather we should have got splendid results. Ten minutes after the eclipse the sky was beautifully clear, but it soon clouded again.
We developed the photographs 2 each night for 6 nights after the eclipse, and I spent the whole day measuring. The cloudy weather upset my plans and I had to treat the measures in a different way from what I had intended; consequently I have not been able to make any preliminary announcements of the result. But the one good plate that I measured gave a result agreeing with Einstein and I think I have got a little confirmation from a second plate.
We had a number of excursions to different places on the island chiefly on Sundays. We had a monkey-hunting expedition, but did not see any except in the distance. We were singularly unfortunate in not seeing monkeys because there are enormous crowds of them about and numbers of men are employed simply in scaring them away from the cocoa. Another interesting expedition was to Lola, a dependency of Sundy where there was a specially fine crop of cocoa. It was a very fine sight to see the large golden pods in such numbers—almost as though the forest had been hung with Chinese lanterns.
Another day we went to Lapa in the estate of the Sociedade Agricultura Colonial and had lunch on the beach off fish which we watched being caught. Lapa is a very beautiful spot at the foot of a fine sugar-loaf mountain. All the beaches are very pretty—a strip of golden sand between the cocoanut palms and the blue sea. I had a good bathe at Lapa—the only time in Principe,—a black man went with me to see that I did not go too near the sharks.
Another time we went to near Bombom to see the ruins of the palace of Marie Corelli (that was not quite her name, but it was something very near it). She was a famous slave dealer about ninety years ago. Her palace on the beach is all in ruins but it must have been a huge place. Her church is there also—quite a fine ruin.
We liked Mr Atalia immensely. He was very lively and amusing and extremely good to us in every way. After dinner we used to sit out in front of the house and there was generally a succession of natives came up to interview him on all sorts of matters. They evidently have great respect and confidence in him.
We had to return by this boat the "Zaire" (although it was rather earlier than I liked) because there will not be another boat leaving Principe until about August 1. There has been a dispute between the company and the government about passage rates, and no boats have left Lisbon for a long while. This boat is tremendously crowded and we should not have got a passage on it; but for the help of the Governor who managed to get places commandeered for us.
I got a bit of fever two days before starting (otherwise I have had splendid health all the time) and was feeling rather bad when I got on board but the sea-air has soon set me right again. It left me a bit weak for the first three or four days—in fact I fainted one night—but it has quite gone now.
Mr. Carneiro is on the ship—returning to Portugal for three months. There are also 4 English missionaries from Angola. They knew about us from Mrs Williams the missionary we met on the Portugal. One of them Mrs Stober is a friend (a Williamson of Cockermouth) related to John Hall. Her husband (who is not a Friend) is a very nice fellow; he was the founder of the mission.
It has been a little rougher this voyage than when we came out; but nothing to speak of. Of course, a lot of passengers have been ill; it is very bad for them being so crowded on the boat. There are lots of children and in some cabins there are as many as seven people. There are three in our cabin—a Portuguese and Cottingham & myself.
We reached Praia last night after 8¼ days from Principe. This is a slow boat and I do not expect we shall reach Lisbon until June 30.
We were very delighted to receive a telegram from Dyson saying that the Brazil party had been successful; we often wondered how they were getting on.
I suppose I shall be back about July 10. I shall look forward to the strawberries, which are better than anything they have in the tropics.
With very dear love to both
Your affectionate son
Stanley
Lisbon, July 2. I expect we shall reach Liverpool about July 15 by R.M.S.P. Line. Ships very crowded and scarce.
—————
The postscript was written in pencil. Two passages have been marked off in pencil by a later hand.
Appraisal, destruction and scheduling
Accruals
System of arrangement
Conditions of access and use area
Conditions governing access
Conditions governing reproduction
Language and script notes
Physical characteristics and technical requirements
Finding aids
Allied materials area
Existence and location of originals
Existence and location of copies
Related units of description
Notes area
Alternative identifier(s)
Description identifier
Institution identifier
Rules and/or conventions used
Status
Level of detail
Dates of creation revision deletion
Sources
Digital object (External URI) rights area
Digital object (Reference) rights area
Digital object (Thumbnail) rights area