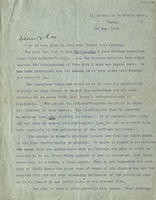 Identity area
Title
Letter from Christabel Pankhurst to Lady Constance Lytton
Context area
Immediate source of acquisition or transfer
Content and structure area
Scope and content
11 Avenue de la Grande Armée, Paris.—The debate on Lord Selborne's Bill will afford an opportunity to emphasise that the enfranchisement of women is inevitable. Women's respect for men is rapidly diminishing, and suffragist men have not done enough to promote the cause.
—————
Transcript
11, Avenue de la Grande Armee, | Paris.
1st May. 1914.
Dearest Con
I am so very glad to have your letter this morning.
You will see that in the Suffragette I have written something about Lord Selborne's Bill. All the reasons which we have urged against the introduction of the Bill I need not repeat here. It has been introduced and the debate is to take place next Tuesday and there it is.
The important thing now seems to be to take the opportunity afforded by this debate to remind the Government and all anti-Suffragists in every Party that women's enfranchisement is inevitable. The utmost the anti-Suffragists can do is to delay it; prevent it they cannot. The question for them to consider is whether they gain anything by delay. In my opinion, they lose, and not only do avowed anti-Suffragists lose, but men as a whole lose very seriously by the maintenance of the Suffrage agitation.
The change in women's attitude towards men that has taken place in the last twelve months is amazing. It means in itself a revolution. The women whom the politicians know are perhaps the same as ever, or pretend to be so, where their opinion of men is concerned. But these women are, in a sense, a class apart. They do not represent the main body of their sex—the great mass of women of all classes who are far removed from the not very elevating influences of the political game as it is played by men politicians at the present time.
Men used to have a great prestige with women. That prestige is disappearing now. More and more, women are regarding men not as equals, but as inferiors. In the past women were very much in ignorance concerning men's moral standards and the suffering caused to themselves as the result of those moral standards being so deplorably low. I will not say that the denial of the vote is producing a sex war because there always has been a sex war. But what is happening is this, that whereas the sex war was waged on one side only, ie. by men, women are now learning to defend themselves. In their humility, Suffragists themselves used to realise that women had been weakened by the result of subjection and needed the training that freedom gives, but now they are also realising that the men have suffered far more as a result of the subjection of women, and have been utterly degraded and demoralised by it. A contempt for men, as men are today, is becoming very, very prevalent amongst women.
Generally speaking, men, if they are not immoral are weak. That this is so is shown by the fact that although there are multitudes of men who believe in women's enfranchisement, they do nothing effective to win it, and are most timid and half-hearted in their criticism of the hideous exploitation of women by men that is going on every day. It ought to be clearly understood by Suffragist men, as well as by anti-Suffragist men, that opposition to votes for women and faint-hearted support of votes for women are regarded by thinking Suffragists as being rooted in immorality. A man who gets up and opposes the enfranchisement of women is regarded as being an immoral man. No doubt there will be an outcry at this statement, but that is what women think and they are not given now to making any secret of their thoughts. Some of the men may try to cite cases of clean living men who believe that women should not have the vote. They will find it very hard to do so, and if they succeed they will be doing nothing more than producing the exceptions that prove the rule.
The responsiblity of Suffragist men is really as great as that of the anti-Suffragist men. They must consider whether they want the sex war to go on or whether they do not, because if it goes on it will certainly get keener, and will in future involve women who are not involved today. What do the men Suffragists who counsel patience and non-militancy imagine women think when they read the remarks about "blackmail" made by Members of the Government in the House of Lords when the Bishop of London's Bill for raising the age of consent was being discussed the other day? It is very obvious that this Bill proposing to protect girls until they are eighteen is hated by a great many men, and that the Government mean to do their best to water down if not to defeat the Bill in question.
What every W.S.P.U. member is saying now is "Thank God we did not get the vote when militancy began, because the campaign of the last few years has been such an education to us." "If men are like this" they say, "then it is dangerous for us not to know it." We have lived in a fool's paradise but have escaped from it now. The fight we are making against the apathy of some men and the opposition of others are strengthening us. We are ready to go on with the present fight for an indefinite period of time. We are just getting into our stride. We are just beginning to reach new bodies of women. If we get the vote tomorrow we shall of course rejoice with all our might, but we realise that if we do not get it for a long time, the years that will be spent in fighting will be some of the most fruitful in the history of the woman's movement. And the wonderful thing is that every year as it goes by is greater in its achievement and more full of educational experience than any year that has gone before. Realising what has been gained by militancy, we are positively sorry for the women in other countries who have got the vote without fighting for it. We want, when the vote comes, to be able to say that we got it ourselves—not that men gave it to us, the reason for that being that men need the lesson that our victory on those terms will give them. Think, too, how much more the women of future generations will appreciate the vote when they realise that it has been fought for and won by women, and not merely handed over as a gift by men.
I am glad to say that it is being more and more realised how scandalous it is for Carson and his friends to be allowed to commit "grave and unprecedented outrages" (to use the words of the Prime Minister) while mother and all the other active militants are persecuted. The argument that the cases are not parallel is not taken seriously by the general public. People realise that Ulster militancy and Suffragist militancy are essentially one and the same thing whatever superficial difference there may be.
I do hope that you will get better and stronger now.
With love
Christabel Pankhurst
Appraisal, destruction and scheduling
Conditions of access and use area
Conditions governing access
Conditions governing reproduction
Language and script notes
Physical characteristics and technical requirements
Allied materials area
Existence and location of originals
Existence and location of copies
Related units of description
Notes area
Alternative identifier(s)
Rules and/or conventions used
Dates of creation revision deletion
This description was created by A. C. Green in 2020.
Digital object (External URI) rights area
Digital object (Reference) rights area
Digital object (Thumbnail) rights area