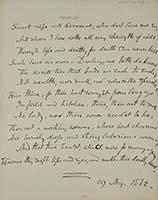 Identificatie
referentie code
Add. MS a/631
Titel
Arthur Munby: poems about and postcards to Hannah Cullwick
Context
Naam van de archiefvormer
(1828-1910)
Biografie
Arthur John Munby was born at York in 1828, eldest son of Joseph Munby and his wife Caroline. After attending school in his home city he was admitted to Trinity College Cambridge in 1848 whence he graduated BA in 1851. He was admitted to Lincoln's inn in 1851 and called to the Bar in 1855, but ultimately found a career in the Ecclesiastical Commission, where he remained until 1888 while simultaneously pursuing a not unsuccessful, but ultimately unspectacular literary career, publishing several poetry collections.
Munby was a detailed diarist, recording London life and his travels for much of the latter half of the nineteenth century. Chief among his interests was the lives of working-class women, which he documented in his diaries, in sketches and in his collections of photographs that included pit-girls, fisherwomen and female acrobats. in 1873 he married a servant, Hannah Cullwick, who continued in her profession and so the relationship remained clandestine until Munby's death in 1910.
Geschiedenis van het archief
Directe bron van verwerving of overbrenging
Purchased from Forum Auctions, 27 Mar. 2020, Lot 73.
Inhoud en structuur
Bereik en inhoud
Twenty-two poems in Arthur Munby's hand, written to and about his wife Hannah Cullwick, with 4 postcards sent to her by Munby, and two newscuttings about their relationship.
There are twenty complete poems and two fragments in Munby's hand, fair copies evidently meant for presentation to Hannah, with a few carrying his emendations. Sixteen of the poems are dated, from 19 August 1882 (Munby's 54th birthday) to Christmas 1900. Poems include "To my Hannah, Christmas 1884"; "A servant-wife", Feb. 1886; "Weerin o Glooves", one of two complete dialect poems, this dated 18 Feb. 1887; "Bonne à toute faire", a poem of 60 stanzas dated 29 Jan. 1888; "Ann Lee", another dialect poem dated 16 Feb. 1888; "De haut en bas", a poem of 51 stanzas dated 27 Feb. 1888; "In our Cottage", a sonnet dated 16 Dec. 1895; "To my Hannah for her 65th Birthday"; "For Hannah, New Year 1901" with a pencilled note that the poem refers to her as Hannah Lee 'cause Cullwick winna rime'; an untitled poem of 160 lines written in ink and in pencil, with each of the 40 stanzas ending 'My Hannah'; an untitled poem in 14 stanzas with 3 stanzas written at the end under the heading 'Left out'; and an untitled sonnet beginning 'Others may scorn thy rough laborious life'.
The four postcards are written in French in Arthur Munby's hand, to "Chérie" and signed "M", and are dated 1886-1890. The first two postcards are addressed to Hannah Munby at Charles Gibbs's in Brearly and G. Gibbs in Wolverhampton, and two from Feb. and Nov. 1890 are to Hannah at Hadley. Munby asks for news, is pleased she likes his gifts, urges her to take care of her health, rejects her protest that she has nothing to write about and asks her to describe her work, and reflects on the difference between a lady and a servant, writing 'mais moi, c'est toujours ma servante que j'aime, et qui est ma femme aussi'.
Accompanied by two newscuttings, one from News of the World, [1910] headed "Poet's Romance. Wife Who Would Not Be a Lady. Rich Man's Visits to Humble Cottage", and another from the Cambridge Daily News 14 Jan. 1950 headed "Trinity's 40-Years-Old Mystery Box" about opening the Munby papers after 40 years.
Waardering, vernietiging en slectie
Aanvullingen
Ordeningstelsel
Voorwaarden voor toegang en gebruik
Voorwaarden voor raadpleging
Voorwaarden voor reproductie
Schrift van het materiaal
Taal en schrift aantekeningen
Fysieke eigenschappen en technische eisen
Toegangen
Verwante materialen
Bestaan en verblifplaats van originelen
Bestaan en verblijfplaats van kopieën
Related units of description
See also: Papers of A J Munby and Hannah Cullwick, MUNB
Aantekeningen
Alternative identifier(s)
Identificatie van de beschrijving
Identificatiecode van de instelling
Toegepaste regels en/of conventies
Status
Niveau van detaillering
Verwijdering van datering archiefvorming
Bronnen
Digitaal object (External URI) rights area
Digitaal object (Referentie) rights area
Digitaal object (Thumbnail) rights area
Voorwaarden voor raadpleging en gebruik