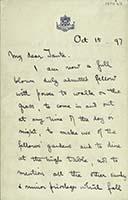 Identificatie
Titel
Letter from F. W. Lawrence to Edith Jane Lawrence
Datum(s)
15 Oct. 1897 (Vervaardig)
Context
Naam van de archiefvormer
Geschiedenis van het archief
Directe bron van verwerving of overbrenging
Inhoud en structuur
Bereik en inhoud
Trinity College, Cambridge.—Discusses the privileges to which he is entitled as a Fellow. Refers to his recent examinations, and to a map he is preparing for an economic lecture.
—————
Transcript
Trin. Coll. Camb.
Oct 15. 97
My dear Tante.
I am now a full blown duly admitted fellow with power to walk on the grass, to come in and out at any time of the day or night, to make use of the fellows' gardens and to dine at the high table, not to mention all the other sundry & minor priveleges† which fall to my lot! It seems funny to have got all these things at last after wondering for 6 years whether they would ever be mine. Perhaps the walking upon the grass though the most trivial is yet the most realisable portion of the performance, & though it is not considered etiquette for junior fellows to make much use of this privelege† (!) yet somehow it is the one thing which in the undergraduate mind is inseparably connected with the possession of a fellowship.
In your original kind letter of congratulation you suggested a rest, I have arrived at that stage now, but when I received yours I was just at the commencement of a very stiff piece of grind. Tuesday I had 6 hours of heavy exam & after this was over had to do several hours of looking up of work for Wednesday. And Wednesday after spending most of the day being examined & in looking up for the exam, I spent a large part of the night in making a map which was required at once in order that it might be reproduced before my Economic Lecture Nov 5. So you will see that the obtaining of a fellowship has not made me lazy.
I am fairly sanguine about the result of my law exam, but the preparation running together with so much other work has been very difficult, & the papers were tricky & their method of marking is peculiar
The stonemasons opposite are still at work on the buildings.
I suppose a formal acceptance for Nov 10 is unnecessary; at present I have not thought of anyone to ask; but then I have not thought very hard, & if I subsequently think of someone I will let you know. It should be a v. jolly affair. I should like to come some day this month, but have not made my plans as yet, & will write in a few days again.
I have a sea of correspondence.
Your affte Neffe
Fredk W Lawrence
—————
† Sic.
Waardering, vernietiging en slectie
Voorwaarden voor toegang en gebruik
Voorwaarden voor raadpleging
Voorwaarden voor reproductie
Schrift van het materiaal
Taal en schrift aantekeningen
Fysieke eigenschappen en technische eisen
Verwante materialen
Bestaan en verblifplaats van originelen
Bestaan en verblijfplaats van kopieën
Related units of description
Aantekeningen
Alternative identifier(s)
Identificatie van de beschrijving
Identificatiecode van de instelling
Toegepaste regels en/of conventies
Verwijdering van datering archiefvorming
This description was created by A. C. Green in 2020.
Digitaal object (External URI) rights area
Digitaal object (Referentie) rights area
Digitaal object (Thumbnail) rights area
Voorwaarden voor raadpleging en gebruik