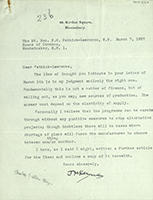 Zone d'identification
Titre
Letter from J. M. Keynes to F. W. Pethick-Lawrence
Étendue matérielle et support
Zone du contexte
Source immédiate d'acquisition ou de transfert
Zone du contenu et de la structure
Portée et contenu
46 Gordon Square, Bloomsbury.—Agrees with his views (on the re-armament loan). Does not think it necessary to impose punitive measures to stop alternative projects. Sends a copy of his article for The Times (2/215).
—————
Transcript
46 Gordon Square, Bloomsbury
March 7, 1937
The Rt. Hon. F. W. Pethick-Lawrence, M.P.
House of Commons,
Westminster, S.W.1.
Dear Pethick-Lawrence,
The line of thought you indicate in your letter of March 5th is in my judgment entirely the right one. Fundamentally this is not a matter of finance, but of calling out, as you say, new sources of production. The answer must depend upon the elasticity of supply.
Personally I believe that the programme can be carried through without any punitive measures to stop alternative projects; though doubtless there will be cases where shortage of plant will for the manufacturer to choose between one thing or another.
I have, as I said I might, written a further article for the Times and enclose a copy of it herewith.
J M Keynes
Évaluation, élimination et calendrier de conservation
Zone des conditions d'accès et d'utilisation
Conditions de reproduction
Notes de langue et graphie
Caractéristiques matérielle et contraintes techniques
Zone des sources complémentaires
Existence et lieu de conservation des originaux
Existence et lieu de conservation des copies
Unités de description associées
Zone des notes
Identifiant(s) alternatif(s)
Identifiant de la description
Identifiant du service d'archives
Règles et/ou conventions utilisées
Dates de production, de révision, de suppression
This description was created by A. C. Green in 2020.
Document numérique - métadonnées
Document numérique (URI externe) zone des droits
Document numérique (Référence) zone des droits
Document numérique (Vignette) zone des droits