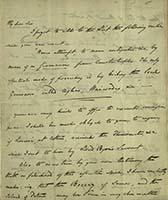 Área de identidad
Código de referencia
R./2.40/No. 4
Título
Letter from E. D. Clarke to William Clark
Área de contexto
Origen del ingreso o transferencia
Área de contenido y estructura
Alcance y contenido
Transcript
My dear Sir
I forgot to add to the List the following caution which you can insert—
"Never attempt to move antiquities, &c, by means of a firmaun from Constantinople. The only effectual mode of proceeding is by bribing the local Governors, called Aghas, Waiwodes, &c."
——————————
You are very kind to offer to execute commissions for me. I shall be much obliged to you to enquire if Lusieri, at Athens, received the Thermometer, &c, which I sent to him by Lord Byron's Servant.
Also to ascertain, by your own testimony, the truth or falsehood of this assertion which I have constantly made; viz. that the Boccaz of Samos, and the Island of Patmos, may be seen in very clear weather from the top of Mount Hymettus.
If you should want a common Greek Servant and Interpreter, you would find Antonio Manurâchi who lives at Constantinople to be quite a treasure. He understands collecting Medals, Plants, Marbles—is a very good Cook, Musician, &c, &c.—
I think you should also insert in your List one more Memorandum—namely
"To attend to the remains of the painted gothic style of Arch in the Levant, and ascertain the age of any such building".
I have sent a short note for Lord Byron.
Most truly yours
E. D. Clarke.
Trumpington
July 11th 1813.
—————
No direction or marks of posting.
Valorización, destrucción y programación
Área de condiciones de acceso y uso
Notas sobre las lenguas y escrituras
Características físicas y requisitos técnicos
Instrumentos de descripción
Área de materiales relacionados
Existencia y localización de originales
Existencia y localización de copias
Unidades de descripción relacionadas
Área de notas
Identificador/es alternativo(os)
Puntos de acceso
Puntos de acceso por materia
Puntos de acceso por lugar
Puntos de acceso por autoridad
Identificador de la descripción
Identificador de la institución
Reglas y/o convenciones usadas
Fechas de creación revisión eliminación
This description was created by A. C. Green in 2021.
Objeto digital (URI externo), área de permisos
Objeto digital (Referencia), área de permisos
Objeto digital (Miniatura), área de permisos