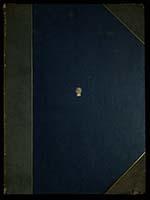 Zone d'identification
Titre
'Aeronautica': prints, cuttings, and other papers relating to the history of ballooning
Étendue matérielle et support
1 volume (39 x 29 cm), containing 35 leaves, 7 documents (ff. 8, 10, 14, 16, 18, 20, and 27), and 4 loose cuttings. Most of the other leaves have prints, cuttings, letters, etc., pasted to them. Half-bound.
Zone du contexte
Nom du producteur
Nom du producteur
Histoire archivistique
This collection was probably assembled by Lord Houghton (cf. f. 30r). Binder's stamp of J. Leighton, Brewer St. The armorial bookplate of Robert, Earl of Crewe, is pasted inside the volume and his heraldic 'garb' is stamped on the front cover.
Source immédiate d'acquisition ou de transfert
Zone du contenu et de la structure
Portée et contenu
On the spine is stamped 'Aeronautica'.
Évaluation, élimination et calendrier de conservation
Mode de classement
The contents are foliated 1–42.
Zone des conditions d'accès et d'utilisation
Conditions de reproduction
Notes de langue et graphie
Caractéristiques matérielle et contraintes techniques
Zone des sources complémentaires
Existence et lieu de conservation des originaux
Existence et lieu de conservation des copies
Unités de description associées
Zone des notes
Identifiant(s) alternatif(s)
Zone du contrôle de la description
Identifiant de la description
Identifiant du service d'archives
Règles et/ou conventions utilisées
In the descriptions of the contents of this volume Monck Mason's Aeronautica (1838) is referred to by a short title. The full title is Aeronautica, or Sketches illustrative of the Theory and Practice of Aerostation, comprising an enlarged account of the late Aerial Expedition to Germany.
Dates de production, de révision, de suppression
Document numérique - métadonnées
Document numérique (URI externe) zone des droits
Document numérique (Référence) zone des droits
Document numérique (Vignette) zone des droits