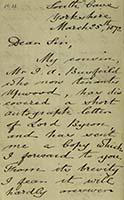 Área de identidad
Código de referencia
R./2.40/No. 11
Título
Letter from William Busfield to J. W. Clark
Nivel de descripción
Parte
Área de contexto
Historia archivística
Origen del ingreso o transferencia
Área de contenido y estructura
Alcance y contenido
Transcript
South Cave Yorkshire
March 25th, 1872
Dear Sir,
My cousin, Mr J. A. Busfeild who now tenants Upwood, has discovered a short autograph letter of Lord Byron, and has sent me a Copy which I forward to you. From its brevity I fear it will hardly answer your expectation[,] but at least you may like to know what was its natur[e] and purport
Believe me
Yours very faithfu[lly]
W Busfeild
[Docketed, by Clark:] March 25. W. Busfeild | Byron's letter.
—————
The back leaf of the sheet has been torn away, and the ends of a couple of lines are missing.
Valorización, destrucción y programación
Acumulaciones
Sistema de arreglo
Área de condiciones de acceso y uso
Condiciones de acceso
Condiciones
Notas sobre las lenguas y escrituras
Características físicas y requisitos técnicos
Instrumentos de descripción
Área de materiales relacionados
Existencia y localización de originales
Existencia y localización de copias
Unidades de descripción relacionadas
Área de notas
Identificador/es alternativo(os)
Puntos de acceso
Puntos de acceso por materia
Puntos de acceso por lugar
Puntos de acceso por autoridad
Identificador de la descripción
Identificador de la institución
Reglas y/o convenciones usadas
Estado de elaboración
Nivel de detalle
Fechas de creación revisión eliminación
This description was created by A. C. Green in 2021.
Fuentes
Objeto digital (URI externo), área de permisos
Objeto digital (Referencia), área de permisos
Objeto digital (Miniatura), área de permisos