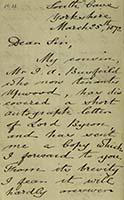 Zone d'identification
Titre
Letter from William Busfield to J. W. Clark
Date(s)
25 Mar. 1872 (Production)
Étendue matérielle et support
Zone du contexte
Source immédiate d'acquisition ou de transfert
Zone du contenu et de la structure
Portée et contenu
Transcript
South Cave Yorkshire
March 25th, 1872
Dear Sir,
My cousin, Mr J. A. Busfeild who now tenants Upwood, has discovered a short autograph letter of Lord Byron, and has sent me a Copy which I forward to you. From its brevity I fear it will hardly answer your expectation[,] but at least you may like to know what was its natur[e] and purport
Believe me
Yours very faithfu[lly]
W Busfeild
[Docketed, by Clark:] March 25. W. Busfeild | Byron's letter.
—————
The back leaf of the sheet has been torn away, and the ends of a couple of lines are missing.
Évaluation, élimination et calendrier de conservation
Zone des conditions d'accès et d'utilisation
Conditions de reproduction
Notes de langue et graphie
Caractéristiques matérielle et contraintes techniques
Zone des sources complémentaires
Existence et lieu de conservation des originaux
Existence et lieu de conservation des copies
Unités de description associées
Zone des notes
Identifiant(s) alternatif(s)
Identifiant de la description
Identifiant du service d'archives
Règles et/ou conventions utilisées
Dates de production, de révision, de suppression
This description was created by A. C. Green in 2021.
Document numérique - métadonnées
Document numérique (URI externe) zone des droits
Document numérique (Référence) zone des droits
Document numérique (Vignette) zone des droits